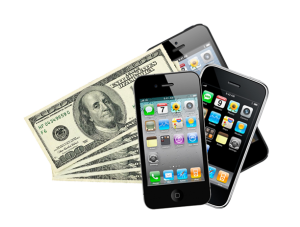 If you are wanting to buy cheap iPhones, your in the right place!
Price Match Guarantee:
TechNak.com will match any online competitor and give you the very best possible price over all other websites.  If you find the exact same model for less and in the same condition, please contact us, and we will make sure you get the phone for cheaper then anywhere else!
Our Customer Service:
TechNak.com was not created to be a short-term business.  We are looking at the horizon at the long run.  We want your business today and forever.  We will do anything and bend over backwards to make sure that you are satisfied.  If you purchased a phone, you automatically have protection through PayPal, however if you contact us first, we will make sure to get your item returned and all your money refunded faster then ever before!  We want your business and hope to keep all our customers happy.  If you ever have a issue, or something that you believe could be improved, please let us know by contacting us.
Gadget-Back Guarantee:
TechNak.com maintains a 100% Gadget-Back Guarantee on all their items.  What this means is that if any item was received differently then stated in the listing on TechNak, you will receive a refund no questions asked.  You will first be asked to return the item, and under our terms your refund will process within 24 hours of the returned items receipt.  We want your satisfaction and if you have any problems, just ask us and we will be more then happy to help you!
We Care:
Our customers are our what makes us successful as a business and we value each one.  If at any time you need some help with your iPhone or with an issue that is going on after you have bought an iPhone, we are more then willing to answer your questions.  You can contact us on the "Contact Us" page on TechNak.com.  We have helped many people get their iPhones working on different carriers and continue to help people in need of advice or help.  If you have any questions prior to making our order with us, please contact us and we can assist and advise you on the best route to take in your purchase decision.